Co-authored by ARGUS' Heather Faulkner.
One of the worst mistakes in photography is poor exposure. An image that is too bright or too dark will be missing details and repel the eye.
But getting exposure right can be a tricky business, especially if you're using manual settings. So how do you achieve it?
The most important thing to remember is this equation:
This has little to do with Einstein's Theory of Relativity, but it does involve one common element—time.
E stands for Exposure.
I stands for the Intensity of light.
T stands for Time.
Exposure = Intensity of light x Time.
In photography, the instrument that controls time (how long your exposure is made), is the shutter. The intensity of light (how much light is let in) is controlled by the aperture and film speed (known as ISO or ASA on digital cameras), which determines how sensitive the film or sensor is to light.
So the three main elements that affect exposure are: 1. shutter speed, 2. aperture, 3. the sensitivity of your sensor/film. If you use of flash another two elements come into play – the light from the flash and the distance between camera and subject.
Shutter speed: The longer your shutter is open, the brighter the image. On a Canon shutter speed priority mode is TV, while on a Nikon it's S. As a general starting point, try 400-1200 for a sunny day (also good for shooting action), 30-160 for shade, indoors or dusk. If you're shooting at night, you'll either need to use a tripod, flash or both. Long exposures (for subjects such as fireworks) require some experimentation but you'll generally be into fractions.
Beware: the slower the shutter (the lower the number), the more motion blur and/or camera shake you'll get. If you're using a wide angle lens (anything under 50mm), you should be able to escape camera shake right down to TV 30 or 60. If you're using a zoom, camera shake is much harder to avoid and you may get shake with anything under TV of 120-400 (depending on how far you're zooming – the further away your subject is, the more shake).
Examples:
Aperture: Aperture functions like the pupils of your eyes – big and open in dim light, small and tight in bright sun. The lower the number (often called the F-stop), the more open the aperture. More light = lower AV number.
The shutter speed and aperture have a reciprocal relationship of give and take.
Here's a scenario:
Shutter speed: 1/125 second, aperture f8.
If you speed up your shutter speed (let's say you need to capture fast action), to 1/250 second, your aperture, in order to expose the image correctly, needs to be adjusted to a more open diameter—in this case, f5.6.
1/125 @ f8 = 1/250 @ f5.6. Exposure stays the same!
If you shoot manual, you can experiment with this by changing your shutter speed and aperture accordingly.
Depth of field: The aperture controls the depth of field (what appears to be within an acceptable field of focus).
A smaller aperture diameter (a higher f#) will yield more depth of field than a wider aperture diameter (lower f#).
Controlling your depth of field is integral to your visual language. A shallow depth of field separates the subject from the rest of the image. A maximum depth of field gives the contents of the frame equal value and can invite the eye to roam through the image, reading the many elements that are contained within the story of that image.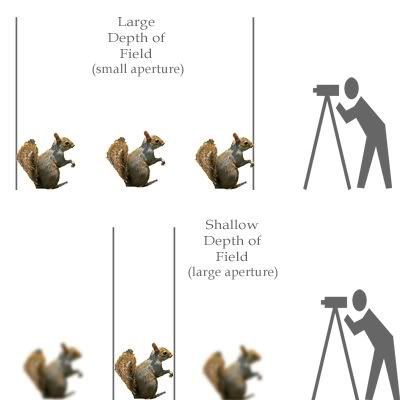 Landscapes often have very wide 'depth of field' (aka DOF), allowing the whole scene to be in focus, while portraits are likely to have a shallow DOF to soften the features and focus on the eyes and mouth (this effect is often referred to as bokeh).
There is no 'one f# fits all'. As you gain distance (physical) from your subject, you gain depth of field. As you decrease the distance between yourself and your subject, you loose depth of field. The lens size and angle of view also affect the depth of field.
And because aperture affects light and focal range, it is tricky to get the foreground and background both in focus when the lighting is poor. This is when you need to use a slower shutter speed (and tripod), increase the ISO, or use a flash to compensate in order to achieve depth.
There are some great graphics here on the PhotoHead website to help you work out shutter speed and aperture.
Examples:
ISO: ISO determines how sensitive the sensor/film is to light, allowing you to gain faster shutter speeds in low-light conditions. An ISO/ASA of 100 is for bright, sunny conditions, while 400 is for shady areas and well-lit indoors (it's darker than you think in an office). Once the number goes higher than 400 it gets more and more grainy but don't be afraid to use a high ISO/ASA in dim conditions, grainy images are much better than underexposed ones!
Unlike film, digital gives you  the option to change your ISO/ASA mid-shoot. You can achieve more light sensitivity in low-light conditions when the widest aperture setting and slowest shutter speed won't yield results (imagine shooting hand-held for 30 seconds!). For Queensland, where the sun always shines, harsh shadows are unavoidable unless you know how to gain more sensitivity from your camera (hint: increase the ISO/ASA).
If you need to capture more shadow details, you'll need to increase the ISO (200-400). You may over-expose the background, but not your subject. The other option is to use a flash to fill in the shadows (which means you won't have to over-expose the background).
Higher ISO/ASA can also be useful in bright conditions when you need to shoot at very fast speeds (such as sports and freeze action).
Examples:
Flash: Lots of photographers tape down their flash never to be used, preferring natural lighting at all costs. This is largely because flashes (especially the ones that come with your camera) can cause ugly lighting effects.
However, a flash is definitely a good idea if you have to shoot in conditions where your subject is in the shade and there's light coming from behind. While ISO is the better choice in low light, the use of a flash is better than unwelcome motion blur.
Balancing flash with available light is tricky, but it can yield some fantastic results. Strobist provides a good online resource to learn more about using a flash and includes some great example shots here. 

A cheaper alternative, and one that's used by TV crews, is using a reflector. If your subject is back-lit, simply find a reflective source (a large reflector from the camera store, a white piece of Styrofoam, a white sheet of paper!) to reflect the sun or available light back onto your subject's face. Hint: the visor you might use to protect your car's dash makes a terrific reflector.
Distance from subject: If you're using a flash, the closer you are to the subject, the brighter that flash will be. Take that into account and don't get too close.
Remember the exposure triangle, star and see-saw.
Most of all remember the equation: Exposure = Intensity of light x Time.
Where to find out more
If you're interested in understanding histograms (the graphic that shows how your photo is exposed), Cambridge in Colour has a great article.
Luminous Landscapes provides another article on understanding exposure.
CNET Australia has a good tutorial on the exposure triangle here.

This work is licensed under a Creative Commons Attribution-NonCommercial-NoDerivs 3.0 Unported.
View ratings
Rate this article
Rate this article
Article ratings
Current average ratings.